Acerola smoothie
Zubereitungszeit: 10 - 15 Minuten • Schwierigkeitsgrad: leicht • Für 2 Personen
Ingredients:

• 2 kiwis
• 1 banana
• 2 oranges
• 1 heaped tbsp Hungarian flower pollen (organic)
• 1 heaped teaspoon acerola powder
• 300 ml water

Preparation:
Peel the oranges, banana and kiwis and place in a blender or smoothie maker.
Add the water and mix finely. Then add the flower pollen and the acerola powder and mix again for about 30 seconds.
Now pour the finished smoothie into a smoothie glass and enjoy.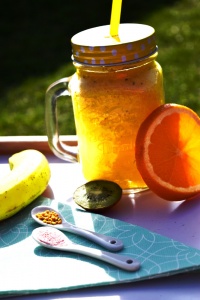 Tip:

The smoothie tastes very fruity with a slightly sour note. The pollen and banana add sweetness. So if you prefer sweet smoothies, simply add more flower pollen or a banana. The banana also makes the smoothie creamier!


You can find more exciting/interesting information and recipes in our blog and recipe section.