Information about the strict Naturland standards can be found below the certificate.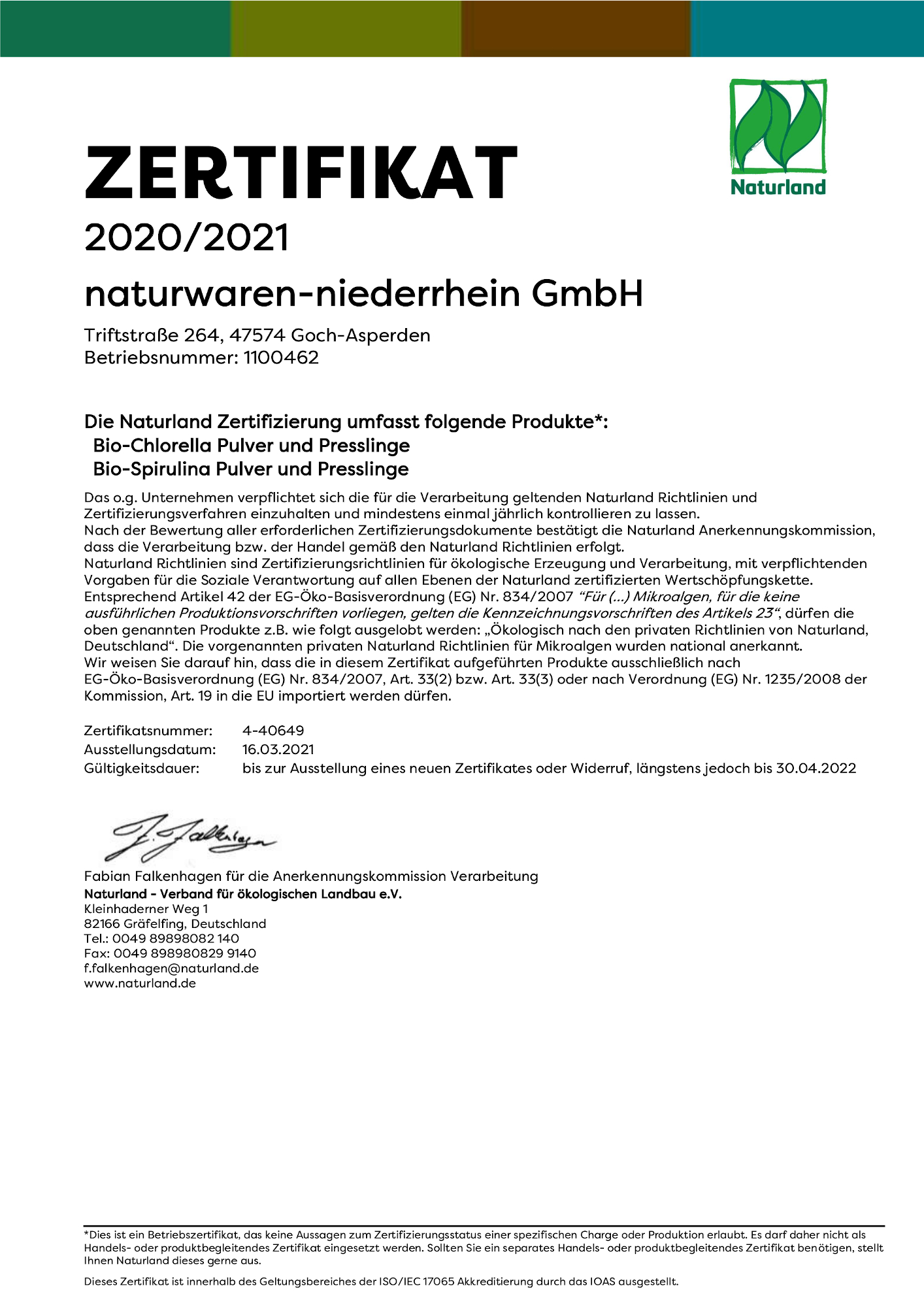 Culture on pure organic substrate
The focus of microalgae production is on tropical and subtropical areas.
Both species need as much sunlight as possible to grow, so the water in the culture tanks is only about thirty centimetres deep and is constantly circulating.

Naturland's standards treat microalgae like other products consisting of micro-organisms (e.g. yeast): only certified organic products based on plants may be used as growth substrates. Consequently, Naturland prohibits the use of artificial fertilisers or animal products (manure, blood meal etc.) in the cultivation of microalgae.
Naturland prescribes the use of water of drinking water quality for the cultivation of the algae.

No conventional pressing additives or other additives are permitted in further processing.


Social standards guaranteed:
Naturland's comprehensive standards also include the social interaction with the people who live and work on the farms.

The basic rights of the people who live and work on Naturland's farms,
are observed; they must at least comply with local legal regulations
or human rights according to UN conventions, the International Labour Organisa-
tion Conventions and Recommendations (ILO)1 and the UN Convention on the Rights of the Child2 , should these go beyond that.

Consequently, Naturland's standards prohibit child labour, forced labour, unequal treatment based on origin, faith, gender, membership or political conviction.
The standards guarantee freedom of assembly, access to trade unions, fair wages, social benefits, equal treatment, etc.


Active contribution to environmental protection:
Naturland's standards help to protect the natural resources of plants, animals and man
in the long term. The users of these guidelines thus make an active contribution to environmental and resource protection.
Every processor who trades in organic products must ensure that all necessary measures are taken on his part to prevent contamination of the products or the environment with unauthorised substances.
The processing companies have written procedures and measures regarding environmental protection, e.g:
minimising and monitoring waste and environmental pollution
Documentation of the training of the staff regarding the economical use of water and
Energy, correct and economical use of chemicals and their correct disposal.


Naturland's certified chlorella and spirulina thus distinguish them from algae that are only certified organic or even cultivated according to conventional standards in:

-the greater purity of the products
-the higher social standards of the company's employees
-cleaner environmental management

With a Naturland product you are choosing a product that is good for you, your fellow human beings and our environment.