Biofach 2020 - The Aspermühle is back at the world's largest organic trade fair
This year, of course, the Aspermühle was again represented at the BioFach. The BioFach is a special event every year.
Here traders from all over the world meet to present their products and novelties.
The atmosphere was very pleasant again this year and we had very nice stand neighbours with the jackfruit specialists from <a href='https://www.whos-jack.de/' target='_blank' rel='noopener' title='Who's Jack - Jackfrucht Shop'>'Who's Jack', the vegan burger roasters from 'Bunte Burger ' and the natural label makers from 'Mail-Druck'.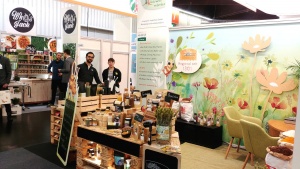 Our stand design caught the eye of the fair visitors again, fresh and natural, and was received with much enthusiasm.