Berry cream dessert with raspberry honey
Preparation time: approx. 20 min - Degree of difficulty: easy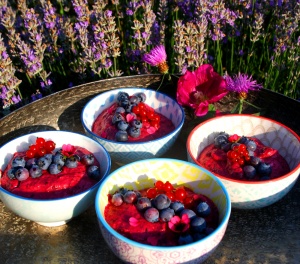 Preparation:
Defrost frozen berries beforehand, sort fresh berries, wash and puree in a blender together with the raspberry honey and blueberry powder.
Add the chia seeds, mix and leave to soak for about 15 minutes.
In the meantime, whip the cream until stiff and then carefully fold into the pureed berries, divide the fluffy berry cream into four bowls and chill for at least 30 minutes. Before serving, garnish the berry cream with fresh berries, mint leaves, coconut flakes or cocoa nibs as desired.