Birdseed homemade - basic recipe & different ideas
Preparation time: 60-120 minutes - Difficulty: medium
Ingredients:
- 1kg coconut fat natural
- 2 tablespoons cooking oil (so the fat food remains supple even in frost)
- 1 kg grain mixture (here ready bird food mixture)
- Or coarsely chopped nuts, seeds, flakes, dried fruits and grains
- Not suitable are leftovers, salty or fresh food !
- 1 saucepan
- gravy ladle or spoon
Ingredients:
- shish kebabs
- mini muffin tin
- cookie cutters - not too delicate designs - otherwise your feeders will break
- small clay flower pots and pieces of branches
- yarn
- baking paper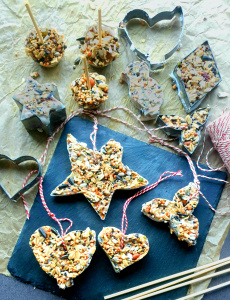 It's easy from just a few ingredients and a joy to watch the birds do it on patio or in the garden.
Let's go:
In the saucepan, melt the fat slowly over low heat and stir in the grain mixture, mixing well until all the grains are wetted.
Turn off the heat and spoon the mixture into the mini muffin tins. If necessary, keep putting the pan on the hot stove in between if the mixture sets too quickly.
Put shish kebabs whole or halved into the food muffins. You can then just stick them outside in flower pots or wreaths.
If you take cookie cutters, place them on a baking paper and first put some of the liquid fat in the cutters and wait until it starts to dry, then spread the mixture on top and when it starts to set, put a shish kebab skewer in it to leave a hole for the string to hang.
Depending on the temperature and size, the ramekins will take about 10 -60 minutes to cool. Then remove the shish kebab, carefully take the food figures out of the mold, pull the string through and hang them up in a well protected place.
It also works quite well with a small flower pot.
For this purpose we have collected small sticks, which fit through the hole in the bottom and stick out about 10-15 cm below and above the flower pot.
First, connect the thread suspension to it, together with the stick pass through the bottom hole and put some of the grain mixture into it and press it down so that the opening is closed.
Once the mixture is solid, you can continue to fill the pot, leaving a rim free so the food is protected from getting wet, and hang up the feeder.
Have fun with it !