Date balls with pistachios
Preparation time: 60 min - Difficulty: easy

Vegan - Lactose-free - Gluten-free

Ingredients for approx. 20 pieces:
- 120 g dried cranberries
- 65 g
dates
pitted
- 2 tbsp.
cocoa powder
and some for dusting
- 50 g cashews
- 50 g pistachios
- 40 g agave syrup
- 55 g tender oat flakes
- sprinkle: chopped pistachios, coconut flakes or cocoa powder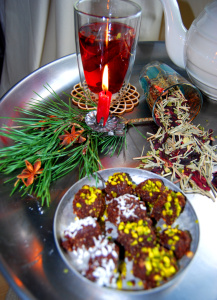 Preparation:
Cranberries, dates, cocoa powder, cashews, pistachios and agave syrup in a strong blender and puree, it creates a very tough sticky mass. That must be so ;-)
Work the oat flakes into this mass and let it rest for 30 minutes, then form 20 small balls or cubes from the dough, moisten your hands beforehand and wash them again and again in between. Roll the formed balls or cubes in your choice of sprinkles, with the pistachios you have to press them a little.
Store the balls in an airtight container in the refrigerator. Before eating, they should be at room temperature, then they taste best.
Our recommendation for this: Tea punch or our coconut milk guarana cappuccino !