Egg candles, self poured with our beeswax pastilles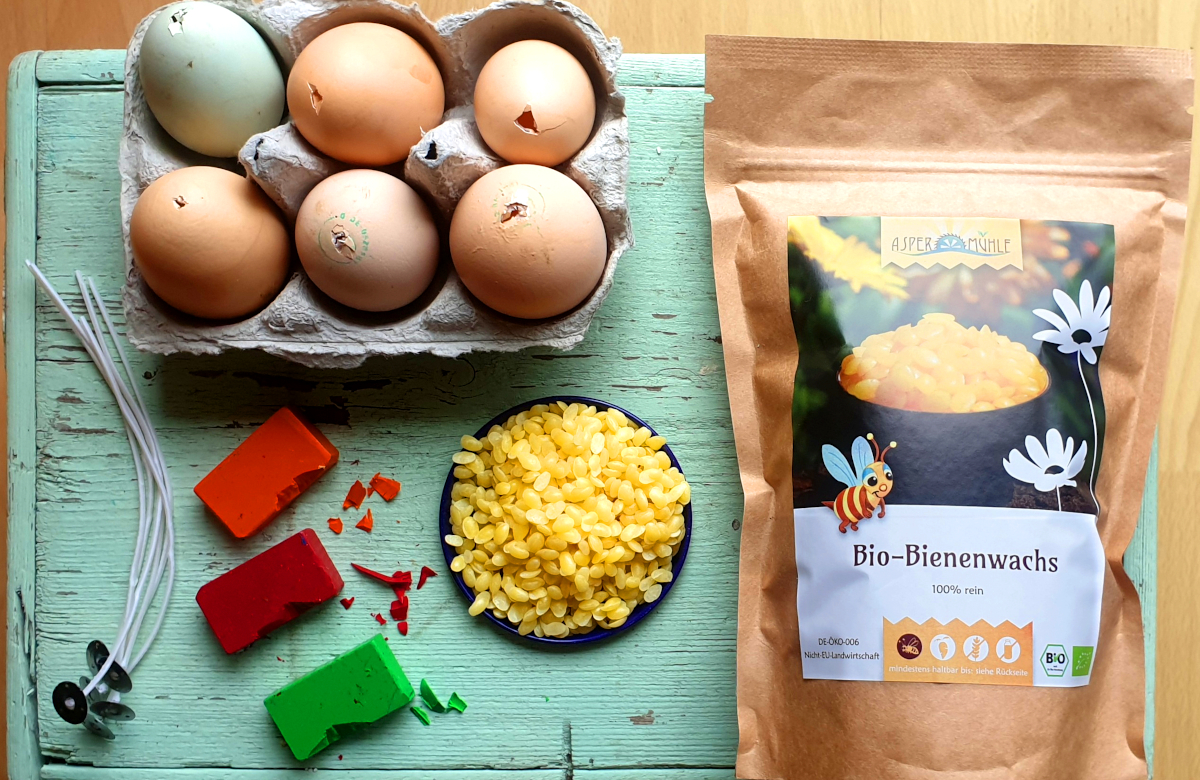 You will need:
6 large blown-out eggs, 6 candle wicks with small plates, beeswax pastilles, possibly colored wax crayons (Stockmar), tape, clothespins, 1-2 tin cans - depending on how many different colors you want to use, cooking pot, egg carton, spoon.
Using pliers, press a "snout" into the tin, this will help fill the wax into the egg.
Prepare eggs:
First, carefully prick the eggs and blow them out over a bowl, enlarge the top holes slightly.
Put the candle wicks through the egg with plates on the wider lower side and fix them with a strip of tape and put them one after the other into the egg carton.
Melt the wax in a water bath:
To do this, it is best to fill a small, tall pot with water and heat it and fill the tin cans halfway with the beeswax pastilles.
Caution: fill the pot and the tin in the proportion that the wax tin does not tip over into the water.
While the wax is melting, stir it with a long spoon and pour some wax into each egg.
Wait a few minutes to let the wax cool so the bottom of the egg closes, then gradually pour the wax into each egg shell until the wax comes out the top.
You can use a clothespin to hold the wick in place as you do this.
If you like colorful egg candles, simply scrape off small pieces of wax crayons with a kitchen knife and add them to the melter.
Now it takes some time until the wax in the eggs has cooled down and become solid. Then tap the eggs on the tabletop and pellet them like your breakfast egg.
Shorten the wick and enjoy the beautiful egg candles, it smells wonderful Beeswax when burning.