Fermented vegetables homemade

Vegan - Gluten Free - Lactose Free

Preparation time: 60 minutes - Difficulty: easy
Ingredients Combi 1 - Mixed vegetables for 4 glasses of 500 ml each
- 1 small Chinese cabbage
- 3 carrots
- 1 pc ginger, finely sliced
- bell bell pepper, cut into thin strips and halved
- ½ chili bell pepper red, seeded and cut into tender strips
- 1 garlic clove, halved
- 1 tsp each allspice,colored peppercorns
- coarse sea salt
Ingredients combi 2, sauerkraut for 2 jars a 1000 ml
- 1 small cabbage
- 6 bay leaves
- 1 tsp cumin whole seeds, poked
- 8 juniper berries, poked
- coarse sea salt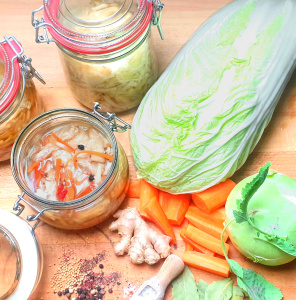 Preparation:
Generally, any vegetable is suitable for fermenting, as well as herbs.
We keep it seasonal and regional and have chosen here 2erlei variants, 1x mixed vegetables and 1x only white cabbage / sauerkraut.
To start your fermentation, it only takes a few resources:
Ironing jars in desired size, there are also special fermentation jars and fermentation weights to weigh down the vegetables in the jar (we simply used discarded small spice jars), coarse sea salt,water, vegetables of choice.
It is recommended that your fermentation jars are well cleaned and rinsed with boiling water beforehand.
We mix in the ratio of 1 kg of vegetables with 25 g of sea salt and 1 l of water.
Herbs & spices expand the flavor combinations and you can let your imagination run wild.
Most of them are available at home, fresh herbs or wild herbs from your garden can be added seasonally.
For example: colored peppercorns, mustard seeds, fennel seeds, cumin, garlic, chili, onions, bay leaves, juniper berries, cloves, allspice.
Let's go:
Wash each vegetable, remove 1-2 outer cabbage leaves from the cabbage and set aside.
Quarter the remaining cabbage, remove the stalk and cut the Chinese cabbage into bite-sized pieces.
Strip the white cabbage into fine strips.
Mortar the allspice and peppercorns briefly for a finer release of flavor.
Now put all the ingredients in a bowl, dissolve the salt in the boiled, still warm water and gradually pour over the vegetables.
While doing this, lightly knead everything together until everything is well blended.
Now fill your jars with the vegetables in small amounts, pressing down in between each time. Leave about 3 inches to the rim of the jar for gassing.
Cover with a large piece of cabbage leaf and weigh down with a weight. It is important that the mixture is completely covered with brine for the fermentation to succeed.
Close the jars and let the batch ferment for 5-7 days at room temperature in a dark place.
It is best to place a tray underneath, in case fermentation liquid escapes, briefly loosen the handle of the jar every day so that the pressure escapes.
After that you can store the jars in the refrigerator. Again, the whole thing will still ferment, just not as much.
Proceed in the same way with the white cabbage/sauerkraut.
What do you eat your fermented vegetables with?
Best uncooked of course, as a snack in between meals, quick healthy side dish also under rice, pasta, legumes or as a topping for salad and soup.
We recommend it on our delicious together with cream cheese or hummus.