Fiery fruity quince chutney
Preparation time: 120 minutes - Difficulty: easy
Ingredients for 7 glasses of 180 g each:
- 500 g apple quinces
- 500 g apples (here a sweet Cox Orange)
- 100 g sugar or a sweet alternative
- 100 g
quince pieces
Aspermühle
- 100 ml apple cider vinegar
- 3 shallots
- 2 thumb-sized pieces of ginger
- 2 small chili peppers
- ½ tsp salt, 1 cinnamon stick, 1 star anise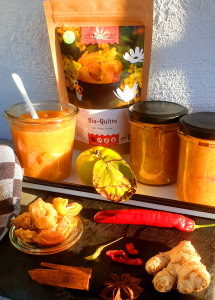 Preparation:
Thoroughly remove the pelts from the quinces with a dish towel before preparation
Remove peel and core from quinces, core apples only and cut fruit into small cubes.
Mix the fruit cubes with sugar and salt. Leave to infuse for an hour to allow the juice to escape.
Remove the seeds from the chili pepper, peel the shallots and ginger, cut them into small pieces and add them to the fruit with the dried quince pieces.
Fill everything up with apple juice and apple cider vinegar and add spices. Simmer on low for about 30 minutes until a thick mixture is formed.
Then remove the cinnamon sticks and star anise from the finished quince chutney and pour the still hot mass into sterilized screw jars, seal and leave to cool.
The chutney will keep for several months in the sealed jar. Once opened, it is best stored in the refrigerator and consumed within a week.
Very tasty with our pumpkin gratin !