Guglhupf "Purple" with maca & blueberry powder
Preparation time: 60 minutes - Difficulty: easy
Ingredients dough:
- Guglhupfform
- 500 g spelt flour type 630
- 200 g cane sugar
- 1 Packg. vanilla sugar
- 2 tbsp.
Maca Powder (Bio)
powder
- 1 tsp. baking soda
- 1 tbsp. apple cider vinegar
- 1 pinch of salt
- 200 g margarine
- 350 ml vegetable drink
- 4 tbsp.
blueberry powder
- 2 tbsp. blueberries fresh or frozen
- 5 tbsp. vegetable drink
Blueberry
glaze:
- 150 g powdered sugar sifted
- 1 tbsp.
blueberry powder
sifted
- lime or red grape juice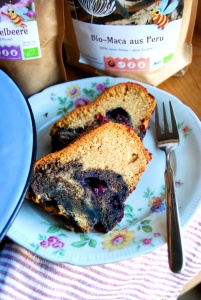 Preparation Dough:
Mix flour with all other dry ingredients in a mixing bowl.
Mix the wet ingredients vinegar, salt, margarine, vegetable drink well and gradually stir in the flour mixture.
Grease the cake tin and sprinkle with breadcrumbs.
Pour in half of the batter. Mix well into the remaining half the blueberries, powder and vegetable drink.
Pour everything on top of the other batter and mix with the light batter in a spiral shape using a fork.
Bake:
Bake in the preheated oven on the lowest rack for about 50 min and test with a wooden skewer.
Let the cake cool in the pan for about 15 minutes, then carefully turn it out onto a cooling rack and let it cool.
In the meantime, mix the glaze and spread on the cooled cake, decorate with berries.