Ice cream confection with strawberry mint

Vegetarian - Gluten Free - *Vegan Option

Preparation time: 45 minutes - Difficulty: easy
Ingredients for approx. 12 pieces:
- 500 g Greek yogurt or *coconut yogurt
- 250g strawberries or other fruit of your choice
- 2-3 stalks of fresh mint
- 3 tablespoons acacia honey or *agave syrup
- 100 g dark chocolate block *vegan
- 1 tablespoon coconut fat
- decoration: half strawberries, mint leaves, chocolate shavings finely shaved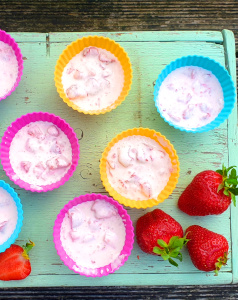 Preparation:
Useful: 12 silicone muffin molds, needs some prep time to freeze.
Wash strawberries, remove greens and cut into small pieces.
Rinse and dry the mint, pluck off the leaves and chop finely with a kitchen knife.
Mix the mint sticks with the strawberries, the sweetness and the yogurt.
Now pour by tablespoons into the muffin cups.
Put the muffins in the freezer for at least 5 hours.
Cut a few fine strips from the chocolate and set aside for decoration, along with 12 half strawberries and mint leaves.
Cut the remaining chocolate into small pieces, melt in a water bath and add the coconut oil.
Now remove the frozen ice cream confections from the mold and dip each one in the chocolate and place on a plate, quickly cover all with the decoration and put back into the ice cream chest or eat directly.
Hmmmmm, delicious :)