Juicy fruit bread with aspermils cocoa and goji berries
Preparation time: 60 min - Difficulty: easy

Ingredients for 2-3 servings:
- 400 g apples (e.g. Boskop) grated
- 400 g pears cut into small cubes
- soak 200 g
Goji Berries
in 1 glass of orange juice (also works well overnight)
- 200 g raw cane sugar
- 200 g hazelnuts halved
- 500 g spelt flour type 630
- 1,5 p. Baking powder
- 2 tbsp.
cocoa powder
- 1 tsp. cinnamon
- 1 tsp. gingerbread spice
- 1 pinch salt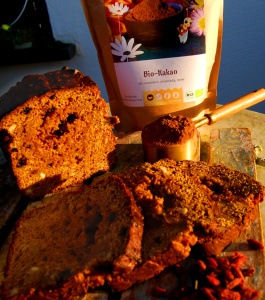 Fruits:
Soak goji berries in a glass of orange juice for at least 1 hr - better overnight.
Peel apples, grate on a kitchen grater and weigh 400g.
Peel, core, weigh and dice pears into small pieces.
Dough:
Mix flour with all other dry ingredients in a mixing bowl, add the fresh fruits and goji's with juice and mix vigorously until homogeneous dough.
Grease the baking pan or line it with baking paper and spread the dough evenly in it.
Bake:
Preheat oven to 170 degrees convection.
Bake in the preheated oven on the lowest shelf for about 60-75 minutes.
Check the baking.
Let the fruit bread cool in the pan for another 10 minutes, then remove from the pan/paper, carefully turn out onto a cooling rack and let cool.