Lamb's lettuce with blueberry-honey dressing

Vegan option - Lactose free - Gluten free

Preparation time: 20 minutes - Difficulty: easy
Ingredients salad for 4 servings:
- 200 g lamb's lettuce
- 1 apple or pear
- 100 g raspberries
- 250 g blueberries
- 2 tbsp chopped walnuts
Blueberry dressing:
- 4 tbsp virgin organic olive oil
- juice of 2 tangerines and 1 lemon
- 2 tbsp
Honey (Bio)
- 1 tsp medium hot mustard
- 2 tsp
blueberry powder
- some balsamic cream
- Fleur de Sel,colorful ground pepper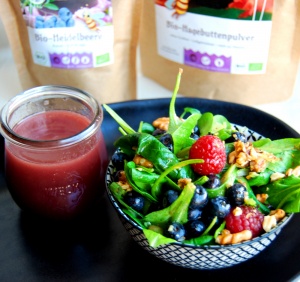 Preparation:
Wash lettuce well, clean and spin dry. Cut apple or pear into fine slices. Wash raspberries and blueberries and pat dry. Finely chop walnuts and arrange everything except the berries nicely on 4 salad bowls or plates.
For the dressing:
In a clean, sealable jar, shake all the ingredients together well and season to taste, pour over the salad, garnish with berries and balsamic cream.