Maca vanilla pudding with rhubarb compote
Preparation time: 45 minutes - Difficulty: easy
Ingredients for 2 servings:
- 500 ml plant milk
- 1 pinch of salt
- 50 g coconut blossom sugar
- 2 tbsp
Maca Powder (Bio)
- ½ package vanilla pudding powder
- 1 Msp vanilla pulp
- 400 g rhubarb fresh
- 100 g
Aspermühlen rhubarb
- 80 g sugar
- 2 tsp vanilla pudding powder or
chia seeds
- 4-6 tbsp water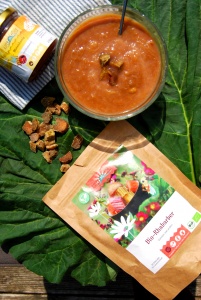 Preparation of rhubarb compote:
Wash the rhubarb well, cut off leaves and ends, pull off coarse threads and cut the stalks into pieces about 2 cm wide.
Mix in a bowl with the sugar and let it stand for about 30 minutes.
Set aside the rhubarb from the asparagus mill, which will be added after cooking.
Simmer the infused rhubarb in a saucepan on medium heat for about 5 min until juice is formed. Collect some of this juice and mix well with the vanilla pudding powder until smooth.
Mix with the rhubarb in the saucepan and simmer on low, stirring constantly for about 3 min. Now add the dried rhubarb pieces.
Preparation Maca-Vanilla Pudding:
For the pudding, boil the plant milk with 1 pinch of salt.
In a screw-top jar, mix about 4 tablespoons of the still cold milk with 1 tablespoon sugar and vanilla & maca pudding powder until well blended.
When milk comes to a boil, remove saucepan from heat and whisk in mixture. Bring to a boil again, stirring constantly, and pour into dessert bowls in batches.
Divide the rhubarb compote among the small bowls with the custard and top with a few pieces of dried rhubarb.