No Bake Berry Tart with Blueberry Powder & Dates
Preparation time: 45 min - Difficulty: easy

Vegan - Lactose-free - Gluten-free - Sugar-free

Ingredients base:
- 10
aspermille dates
pitted
- 150 g almonds
- 60 g hazelnuts
- 60 g sunflower seeds
- 3 tbsp coconut fat
- 1 pinch fleur de sel
Ingredients topping:
- 150 g of the fresh berries
- some basil and lavender flowers
Ingredients to
pping:
- 300 each fresh blackberries & blueberries
- 1 tbsp
blueberry powder
- 3 sprigs basil
- 1 sprig lavender flowers
- 3 tbsp maple syrup
- 1 tbsp lime juice
- 150 ml coconut milk
- 1 tbsp cornflour
- 1 tsp agar agar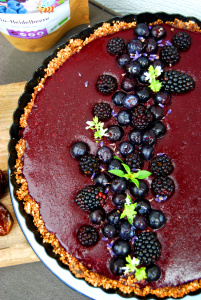 Preparation cake base:
Roast almonds, sunflower seeds and hazelnuts in a pan without fat and then let them cool down a bit.
In the meantime, pit dates and coarsely chop them with the nuts in a blender, add salt and coconut oil and blend.
Pour the sticky mixture into the tart pan, spread it well and press it down with a spoon, also pulling up the edge of the pan and put it in the fridge.
Preparation cake base:
Puree berries and basil, strain mixture through a sieve into a saucepan, add coconut milk and season with maple syrup & lime juice.
Whisk in agar agar & cornstarch until fruit mixture comes to a brief boil.
Remove the saucepan from the hot plate and continue stirring until it has cooled down a bit, then spread it on the cake base, let it cool down further and test it in between.
When the surface is already solidified, you can decorate it with berries, lavender and basil and then put it in the fridge for at least 4 hrs (better overnight).