Pear halves with chestnut cream & coffee

Vegan option* - Gluten-free - *Lactose-free

Preparation time: 60 minutes - Difficulty level: easy
Ingredients for 2-4 people:
- 125 g blanched, peeled chestnuts (approx. 200 g raw chestnuts with skin)
- 200 ml milk
- 2 tbsp raw cane sugar
- pulp from ¼ vanilla pod
- 1 tsp
coffee powder
- 50 ml
espresso
- 2 ripe pears
- 100 g whipped cream *(or vegan version)
- 1 p vanilla sugar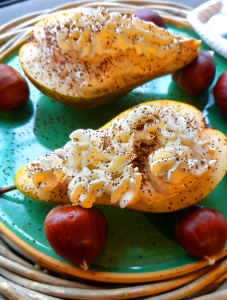 Cook the chestnuts:
Score the raw chestnuts once on the round side and blanch in a pan of boiling water for 10-15 mins.
They are often wormy, you can tell by the chestnuts floating on top - remove these.
Remove the remaining chestnuts and peel them from the cut side.
They taste mild when you peel off the hard shell and the brown skin.
You can also leave the skin on, in which case they taste more bitter and furry.
Preparation of the cream:
Now cook the peeled chestnuts with the milk, sugar, vanilla pulp and pod and 1 tsp of coffee powder for approx. 10 mins. on a medium heat until soft, stirring occasionally.
Remove the vanilla pod and puree the chestnut mixture, then add the espresso, stir and leave to cool.
Wash, halve and core the pears and whip the cream with the vanilla sugar until semi-stiff.
Now arrange the pear halves on dessert plates and fill them first with the chestnut puree.
Then top with the whipped cream and finally sprinkle with a little coffee powder.