Pink Latte with Guarana & Rosehip Powder

Vegan - Lactose-free - Gluten-free

Preparation time: 45 minutes - Difficulty: easy
Ingredients:
- 1 small tuber of beet
- 1 small glass of guarana shot ( ½ tsp
Guarana
)
- 1 small piece of fresh ginger
- 1 tsp
rosehip powder
- 1/2 tsp ground cinnamon
- approx. 350 ml plant milk
- pinch rosehip powder for decoration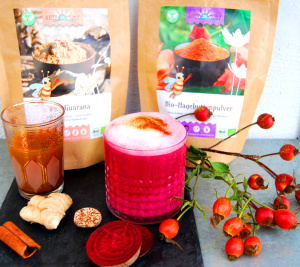 Preparation:
Juice the beet and ginger or blend finely in a blender with 50 ml of plant milk, strain through a fine sieve and stir in the rosehip powder.
Heat the plant milk with the maple syrup and whisk.
Prepare the guarana powder with hot water and pour everything together in a nice glass, first the guarana shot, then the foamed, sweetened if desired, plant milk, finally the beet juice.
Dust with cinnamon and if you like, a pinch of rosehip powder.
For the iced version - the Iced Beetroot Latte - just let the guarana shot cool in the fridge, use cool milk and add 1-2 ice cubes if needed.