Prince Eugene Cake with Maca Powder
Preparation time: 60 minutes - Difficulty: easy
Ingredients:
- ground hazelnuts
- ground almonds
- 2 heaped tbsp.
Maca Powder (Bio)
- sugar
- 2 eggs
- 4 tbsp. hot water
- 200 g chopped dark chocolate (set aside approx. 2 tbsp.
for the
garnish)
Ingredients for the topping:
- 1 jar of cranberry jam (other jars are possible, depending on taste)
- cream
- cream stiffener
- fresh berries - here raspberries & blueberries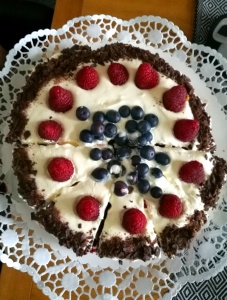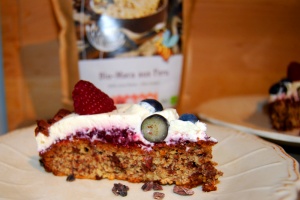 Preparation Pastry Base:
The base of the cake can be baked well 1 day before use, the topping then fresh.
Preheat the oven to 175°C convection oven - 26 springform pan.
Separate the eggs and beat the whites with a pinch of salt until firm.
In a second bowl, mix the egg yolks with the sugar, hazelnuts, Maca Powder (Bio) and almonds for at least 3 minutes with a hand mixer.
Stir in the chocolate pieces and hot water and finally carefully fold in the beaten egg whites.
Line the bottom of the springform pan with baking paper, grease the edges and pour in the mixture.
Bake in the middle of the oven for about 30-40 minutes, test with chopsticks.
Preparation of the topping:
Let the baked cake base cool well on a rack, then put the edge back around the cake (otherwise the jam will run down the sides), spread the cranberry jam evenly on top and refrigerate for at least 3 hours.
Whip the cream with the cream stiffener according to instructions and spread evenly over the cake, decorate with the remaining chocolate pieces and berries.