Rhubarb crumble with maca & psyllium husks
Preparation time 1.5 hours - Difficulty: easy
Ingredients for the crumble:
- 100 g spelt flour
- 80 g rolled oats
- 30 g chopped almonds or nuts
- 1 tbsp
maca powder
- 80 g butter cold or margarine /coconut oil
- 1⁄4 tsp salt
- 80 g raw cane sugar
- 1 tsp sea salt
Ingredients for the fruit layer
:
- 400 g rhubarb
- 2 tbsp
psyllium husks
- 150 g more fresh fruit, we used apples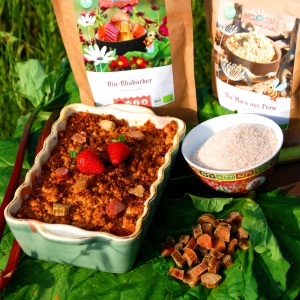 Preparation:
To make the crumble, first knead all the dry ingredients with the cold butter in a food processor, then work into crumbles with your hands and chill for at least 30 minutes.
Mix the rhubarb pieces with the chopped remaining fruit and 2 tablespoons of psyllium husks and leave to rest. In that time, lightly grease a baking dish.
Then put the fruit pieces into the baking dish. If you like you can sprinkle some cinnamon on top. Spread the crumble mixture over the top and top with chopped almonds if you like.
Off into the oven and good success!
Bake:
Bake in a preheated oven at 180° convection oven for 30 to 35 minutes.
Eaten still warm, with ice cream, a dream