Sardinian zucchini quiche with rosemary
Preparation time: 1,5h - Difficulty: easy
Ingredients dough
- 250 g flour
- 100 g butter
- 1 egg
- 2 tbsp water, cold
- 1 tsp salt
- 21 tsp paprika powder
Ingredients topping
- 1 onion, white
- garlic
- 20 g butter
- 1 tbsp lime juice
- 500 g courgettes
- pepper, salt
- 1 tbsp lime juice
- 2 eggs
- 150 g cream
- pepper, salt
- approx. 1 tbsp
rosemary
- 50 g Parmesan cheese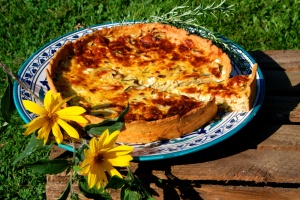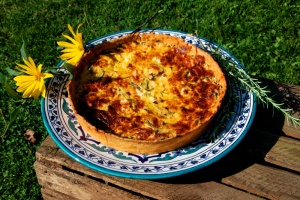 Preparation dough:
For the dough, first put flour in a mixing bowl and spread cold butter in flakes on top. Add 1 egg and cold water. Season the flour with salt and paprika powder and knead everything with dough hooks to a shortcrust dough.
Finally, it is best to knead again briefly with your hands, so that the dough, is smooth.
Form the shortcrust dough into a ball and let it rest covered in the fridge for about 1 hour.
Preparation of the topping:
Prepare the topping for the zucchini quiche. Peel the onion and garlic and dice them as finely as possible. Melt 20g of butter in a coated pan and add the rosemary.
Wash the courgettes, rub them dry, slice them finely and add them to the pan with the onions. Saute for about 10 more minutes on medium heat until soft and season with pepper and salt.
Squeeze a lime and season the zucchini with the lime juice. Crack 2 eggs into a small bowl and whisk with cream.
Season with pepper, salt and rosemary. Coarsely grate the fresh parmesan and stir into the cream.
Preheat the oven to 200°.
Remove the shortcrust pastry from the fridge and place on a lightly floured work surface. Sprinkle with a little flour and roll out round so that the dough fits into a 26 springform pan and place in the buttered pan.
Prick the bottom of the dough several times with a fork so that it doesn't bubble when baked and browns evenly.
Spread the zucchini over the shortcrust pastry and pour the egg and cream mixture over the top. Bake the courgette quiche on the middle shelf in a preheated oven at 200° for about 30 minutes, until the Parmesan looks golden brown.