Snowballs confection with goji berries
Preparation time: 45 min - Difficulty: easy
Ingredients for 60 pieces:
- 80 g butter
- 50 g sugar
- 1 pinch fleur de sel
- 250 g low-fat quark
- 250 g spelt flour type 650
- 1 tsp baking powder
- 100 g
Goji Berries
(soaked in hot water for at least 1 hour)
- 100 g chopped almonds
- 100 g powdered sugar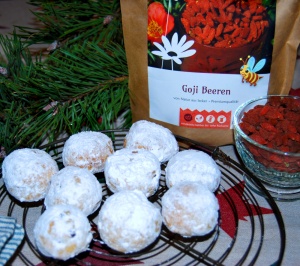 Preparation:
Mix room-warm butter with sugar and salt for 5 min. with whisk or hand mixer until creamy, then add curd cheese.
Mix flour, baking powder and cinnamon, sift over the dough and fold in as well.
Then roughly chop the Goji Berries (drain the water and pat the berries dry in a kitchen towel) and add to the mixture with the almonds.
Form 2.5 cm balls of the dough and bake on a baking tray lined with baking paper for about 10-15 minutes.
Put the powdered sugar in a bowl and roll the confectionery in it immediately after baking, and the healthy snowballs are ready!