Sweet potato brownies with dates & cocoa

Vegan - Gluten Free - Lactose Free

Preparation time: 60 minutes - Difficulty: easy
Ingredients:
- 450 g sweet potatoes
- 2 tbsp virgin coconut oil
- 130 g pitted
dates
- 100 g very ripe banana
- 100 g ground almonds
- 80 g rolled oats gluten-free
- 4 tbsp
cocoa powder
- 2 tsp baking powder
- ½ vanilla bean- the pulp of it
- 1 pinch of salt
Topping:
- 50 g chopped almonds
- 30 g vegan chocolate chips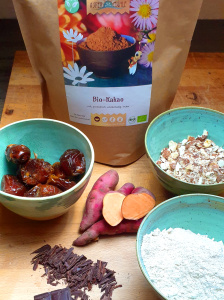 Preparation:
Peel and dice the sweet potatoes and boil them in a little water for 10-15 minutes until soft.
In the meantime, grind the oat flakes finely, roast 150 g almonds in a pan without fat until fragrant, chop 50 g coarsely and grind the remaining 100 g finely.
Soak the dates in a little hot water for about 5 minutes.
Mash the banana, mix with the drained dates and the slightly cooled sweet potatoes.
Then add the other ingredients vanilla pulp, almonds, coconut oil, oatmeal, cocoa, salt and mix in a powerful blender until finely pureed, stir in the baking powder at the very end.
Preheat the oven to 175 degrees top and bottom heat.
Then pour the batter onto a baking tray or pan lined with parchment paper, smooth out and bake for about 35 min on the middle shelf, possibly cover with parchment paper halfway through the baking time, so that the edges of your brownies do not get too dark.
Topping:
After the baking time, let the brownie mixture cool a bit, topping it with the chopped almonds and the finely grated chocolate - it will still melt very delicately.
When your brownies are completely cooled, you can cut them into strips or cubes as desired and enjoy.
Packed airtight, they will keep for about 5 days in the refrigerator.