Warming chai porridge with guarana

Vegan - Gluten Free - Lactose Free

Preparation time: 60 minutes - Difficulty: easy
Ingredients for 1 serving:
- 30 g oatmeal tender
- 15 g oatmeal kernig
- 1 tsp agave syrup or maple syrup
- ½ tsp
Guarana
- 1 tsp peanut butter
- ½ tsp cinnamon
- 1 Msp ground cardamom
- 1 Msp ginger freshly grated
- 1 pinch nutmeg ground
- 1 pinch clove powder
- 125 ml oat milk
- 125 ml water
- Optional: Tonka bean grated
- fresh fruit of your choice, in this case tangerines.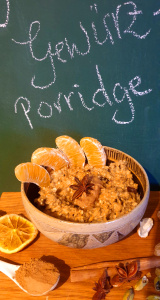 Preparation:
Place oat milk and water in a small saucepan, stir in agave syrup, hemp powder, peanut butter and spices and bring to a boil over medium heat.
Add oatmeal, stir in and cook to desired consistency, for us it takes about 5 min.
Pour the chai porridge into a breakfast bowl and top with the fruit and toppings of your choice. Knock yourself out !