Wild herbs meadow tartlet savory with fresh salad
Preparation time: 45 minutes - Difficulty: easy
Ingredients for 12 meadow tartlets:
- 250 g puff pastry (here ready roll from the refrigerator shelf)
- diced carrots
- 1 onion
- 1 garlic clove
- 1 tablespoon butter
- 150 g tender red clover flowers
- 150 g nettle
- 1 handful goutweed
- 2 eggs
- 100 g grated cheese - according to taste mild or strong variety
- 125 ml vegetable broth
- salt , pepper , nutmeg
- muffin molds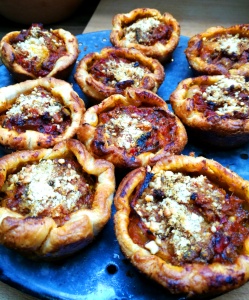 Preparation:
Preheat oven to 200° or convection 180°, grease muffin tin and sprinkle with breadcrumbs.
Roll up the puff pastry roll, and roll it out lightly with a rolling pin on a smooth surface (with the baking paper underneath) and let it rest for 5 min.
Either place whole on a baking sheet, or use a round cup or glass diameter slightly larger than the curves of the muffin tin to cut out 12 pieces of dough and place them in the greased muffin tin.
Rinse the wild & meadow herbs under a fine kitchen spray and spin dry with a salad spinner.
Clean the carrots and cut into fine cubes with the onion and garlic, cut the nettle and girsch into strips.
Preparation:
In a large non-stick frying pan, melt the butter and sauté the carrots with the onion and garlic until golden brown.
Add the nettle and goutweed leaves and continue to sauté for about 3 minutes, now add the shamrocks and turn off the heat, but continue to sauté.
In the meantime, whisk eggs, cheese and spices and first spread the wild herb-vegetable mixture on the pastry cases and then pour the egg-cheese mixture on top.
Bake for about 15 minutes on the middle shelf.
Serve with a crispy fresh salad, hmmm