Zucchini almond cake with aspermills chia seeds
Preparation time: 45 minutes - Difficulty: easy
Ingredients dough:
- 400 g zucchini raw
- 150g butter or vegan margarine room warm
- 200 g raw cane sugar
- 3 tbsp
Chia seeds
- 1 stick of vanilla pulp
- 100 g ground almonds
- 250g spelt flour type 630
- a pinch of salt
- some butter and breadcrumbs for the mold
Ingredients frosting
:
- 250 g heavy cream cheese
- 250 g butter or margarine
- 250 g powdered sugar
- chopped pistachios or 1 whole almond
- 1 piece of zucchini quarter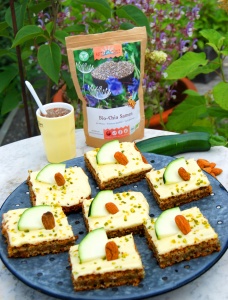 Preparation:
Mix 3 tablespoons of chia seeds with 6 tablespoons of hot water and let swell for about 15 minutes.
Coarsely grate the zucchini and drain the liquid in a sieve.
Beat the butter and cane sugar until fluffy and stir in the chia mixture.
Then add the vanilla pulp, ground almonds, spelt flour, baking powder, salt and the well-squeezed zucchini.
Take a baking tray lined with baking paper, spread the dough on it, smooth it out and bake in a preheated oven at 175 degrees convection oven for about 40 to 50 minutes. If necessary, reduce heat or cover after 30 minutes.
At the same time, you can prepare the frosting.
Use a kitchen mixer to beat cream cheese and butter until fluffy and slowly sift in powdered sugar, possibly adding some lemon juice, depending on taste.
Allow the baked cake to cool and spread with frosting cream and decorate.