Maca muffins with Bourbon vanilla and almonds
Level of difficulty: Medium - Preparation time: approx. 40 minutes - For 12 small muffins or 6 large


Ingredients:
- 140 g flour
- 100g sugar
- 50g chocolate
- 30g almonds
- 1 pinch of bourbon vanilla
- a pinch of salt
- 1 tbsp
Maca
(organic)
- 1 pint baking powder
- 70 ml rape seed oil
- 80 ml mineral water
- 1 pint vanilla sugar
- 3 tbsp maple syrup
- a dash of lemon
- 1 tbsp cinnamon
- sugar glaze to taste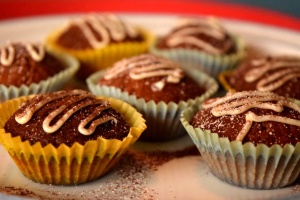 Preparation:
Preheat the oven to 180 °C (fan-assisted). First mix all dry ingredients together.
To do this, chop the chocolate into small pieces and add to the dry ingredients. In another bowl, mix the oil and the mineral water together. Do not stir too hard, otherwise the mixture might foam. Carefully mix in the maple syrup and lemon juice and then slowly add to the dry ingredients.
Everything must now be carefully stirred to a smooth dough.
Pour this into the muffin cups and bake for between 15 and 25 minutes, depending on the size of the muffins. It is best to check every five minutes to prevent the muffins from becoming too dark and dry.
Tip:
Once the muffins have cooled down, you can garnish them with a sugar glaze. This can either be bought ready to use or you can even do a so-called freezing yourself. The recipe for a delicious frosting will follow soon!