7 Spring herbs pesto

Vegan - Lactose-free - Gluten-free

Preparation time: 90 min - Difficulty: easy

Ingredients for 2 jars:
- 120 g fresh spring herbs
here:
Wild garlic, chickweed, bedstraw, dandelion, nettle, deadnettle, shepherd's purse
- 120 g sunflower seeds
- 2 tsp lemon juice
- 120 ml olive oil ( sunflower or rapeseed oil also works)
- Fleur de Sel
- freshly ground pepper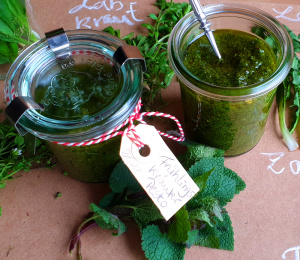 Preparation:
Lightly toast the sunflower seeds without fat in a pan and let cool.
Pluck the herbs, rinse and dry them really well, as the moisture will affect the shelf life of your pesto.
Now blend the sunflower seeds with oil, lemon juice and the herbs -except the wild garlic- in a blender to a paste.
Add the wild garlic and blend very briefly again, season with fleur & pepper.
Rinse the jars and lids with hot water and pour in your pesto so that you can add some olive oil.

The pesto goes great with asparagus or pasta dishes, in salad dressing or on bread !