Apple pie with cinnamon crumble, maca powder & blue cream
Preparation time: 75 min - Difficulty: easy

Ingredients dough & crumble:
- 300 g vegan margarine
- 500 g spelt flour type 630
- 15 tbsp. raw cane sugar
- 2 packg. Bourbon vanilla sugar
- 2 tbsp.
Maca Powder (Bio)
- 2 msp. Tartar baking powder
- 80 ml water
- 1 pinch salt
- 2 tsp. cinnamon
Ingredients Filling:
- 6 apples sweet and sour
- 8 tbsp. applesauce
blue spirulina Cream:
- 250 g whipped cream
- ½ pack. cream stiffener
- ½ tsp.
blue spirulina powder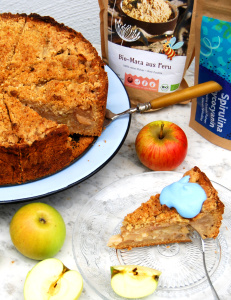 Preparation dough & crumble:
Put 250 g margarine, 380 g flour, 6 tbsp sugar, vanilla sugar, maca & baking powder with the water in a bowl and knead with your hands to a smooth dough, adding some more flour if necessary, if the dough is still too sticky.
Then wrap the dough in plastic wrap and chill for 30-60 min.
For the crumble:
120 g flour, 9 tbsp sugar, cinnamon, 70 g margarine to crumbles and also chill.
Filling:
Peel apples, core and cut into pieces.
Spirulina cream:
Whip the whipping cream in a tall container with a kitchen mixer, gradually drizzle in cream stiffener and spirulina powder until firm and refrigerate until ready to eat.
Grease the springform pan (26 cm), dust with flour, pour in the batter and evenly line the bottom and pull up the edge of the pan, prick the bottom several times with a fork. Now evenly distribute the apple pieces on the bottom and roughly spread the applesauce on top, finally sprinkle the cinnamon crumble on top.
Bake:
Bake in a preheated oven (175°C convection oven) on the middle shelf for 50-60 minutes.
When the edges are golden and the crumbles are firm, the cake is ready, check it.
Let it cool down after baking.
It also tastes heavenly when it is still warm.
Then, of course, the cream runs a little.