Autumn yogurt cream with pumpkinism & chia

Vegan - Gluten Free - Lactose Free

Preparation time: 60 minutes - Difficulty: easy
Ingredients for 2 servings:
- 250 g Hokkaido pumpkin
- 250 ml almond drink
- 1 tbsp coconut chips
- 2 tbsp pumpkin seeds
- 2 tbsp sunflower seeds or nuts of your choice
- 300 g coconut yogurt
- 10 g
chia seeds
- 2 tbsp maple syrup
- ½ tsp cinnamon powder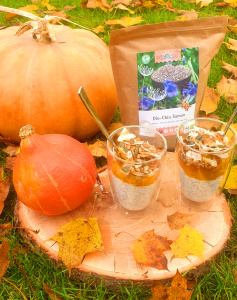 Preparation:
Mix coconut yogurt with chia seeds, divide into 2 glasses and put in the refrigerator for at least 3 hours, better overnight.
Wash, halve and seed the pumpkin and cut into coarse pieces.
Heat the almond drink in a saucepan, add the pumpkin and simmer on low heat for 15 minutes until soft, then finely puree with a blender and leave to cool.
Toast the coconut chips, pumpkin seeds & sunflower seeds in a pan without fat over medium heat for 1-2 min until the mixture turns autumnal golden and aromatic.
Layer each of the pumpkinism on top of the yogurt chia mixture, spread the coconut seed mixture on top and top with maple syrup & cinnamon and enjoy !