Baked zucchini boats with millet & veggie mince

Vegan - vegetarian option with feta cheese

Preparation time: 45 minutes - Difficulty: easy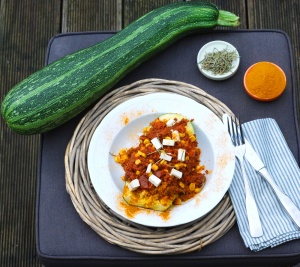 Preparation:
Preheat the oven to 200°, convection oven 180 degrees.
Millet:
Rinse millet in a fine sieve with hot water to get out the bitter substances, put it in a pot with 125 ml of vegetable broth and cook covered for about 20 minutes at low heat until the millet is cooked.
If it is too dry, add a little more broth.
Soy mince:
Put it in a bowl and pour some hot broth and the soy sauce, mix with a fork and let it sit for about 20 minutes
Vegetables:
Clean the zucchini, rinse and cut in half lengthwise, if you have a large zucchini, cut it crosswise 1x as well.
Scrape out the seeds with a spoon, peel and finely chop the onion, peel and very finely dice the carrot, clean, rinse and finely chop the leek, quarter the apricots.
Mix:
Squeeze the soy mince well, heat oil in a pot or pan and sauté with onion, carrot, leek and apricots for about 3-5 min.
Add corn, tomato paste, turmeric, salt and pepper, deglaze with remaining vegetable broth and simmer gently for about 15 min.
Oven:
Place zucchini in a greased ovenproof dish, fill with millet and pour mince sauce over, sprinkle with rosemary and bake for about 10 to 15 minutes and serve with cubes of feta cheese if desired.