Bulgur salad with goji berries and turmeric
Preparation time: 25 minutes - Difficulty: easy
Ingredients:
- 250g bulgur
- 450g water
- 1 tsp vegetable stock
- Two carrots
- Two spring onions
- Six soaked dates
- Six soaked apricots
- Two tbsp soaked
goji berries
Dressing:
- 6 tablespoons olive oil
- Two tablespoons lemon juice
- Two teaspoons honey
- Salt
- Some colored pepper
- One teaspoon
turmeric
- Cayenne pepper to taste
Garnish:
- Fresh mint and watermelon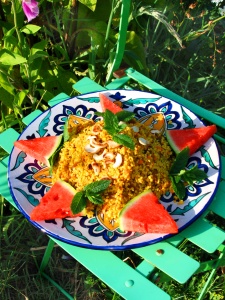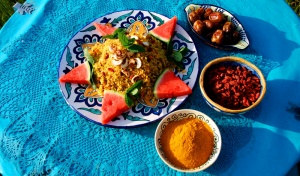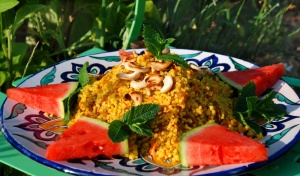 Preparation:
Pour boiling water over the bulgur and let it swell.
Cut the dried fruits (except the goji berries) into small pieces and let them swell in hot water for about 1 hour.
During the soaking time, chop the carrots and mix all the ingredients for the dressing, season with salt and cayenne pepper.
Mix all the ingredients into the bulgur while it is still a little warm and leave to stand.
Serve with fresh mint leaves and watermelon wedges.