Chestnut soup with mushrooms & thyme

Vegan - Lactose-free - Gluten-free

Preparation time: 75 minutes - Difficulty: easy
Ingredients for 4 servings:
- 500 to 600 g chestnuts (sweet chestnuts) peeled
- 2 shallots
- butter for sautéing or vegan margarine
- 500 ml vegetable broth
- 250 ml apple juice naturally cloudy
- 1 tbsp dried porcini mushrooms
- 1 red chili pepper
- 1 garlic clove
- Fleur de Sel
- 0.5 tsp
dried thyme
and a sprig of fresh thyme
- 100 g mushrooms
- 2 tbsp creme fraiche or vegan variant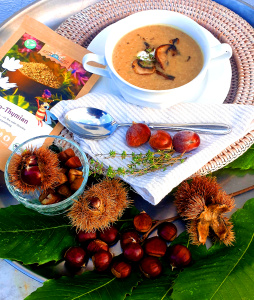 Preparation:
Cut the chestnut skin crosswise on the bulbous, strongly curved side with a good kitchen knife and then place in a pot with water, bring to a boil and leave on the hot plate with the lid on for about 5 minutes.
One by one, take out the chestnuts with a spoon and remove the hard skin. The brown skin is best peeled off when the chestnuts are still hot/warm.
Peel and finely dice the shallots and garlic, deseed the chili pepper and cut into fine strips.
Heat some butter in a pot and sauté everything in it until translucent. Add the chestnuts and dried porcini mushrooms and sauté for another 3 minutes.
Then deglaze with vegetable stock & apple juice, let the soup simmer for about 10 minutes, remove from heat and puree very finely with a hand blender and season with thyme, more salt and pepper.
In the meantime, cut the mushrooms into thin slices and fry them in a little butter in a small pan, wash the thyme and dab dry, arrange the chestnut soup and top with crème fraîche or vegan cream, serve garnished with mushrooms and thyme.