Chia fruit spread ( for 5 glasses of 200ml)
Preparation time: 30 min - Difficulty: easy

Vegan - Gluten Free - Lactose Free
Ingredients:
- 725 g mixed fruits ( fresh or frozen)
- 40 g
Chia seeds
- 3 tbsp agave syrup or coconut blossom sugar
- 1 squeeze organic lemon fresh
- 1 tsp ground vanilla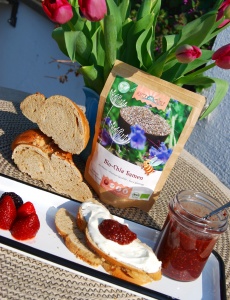 Preparation:
Sort fresh fruit, wash and boil once in a pot.
Frozen fruit can be added to the pot, then bring to a boil over low heat, add some lemon juice, then mash with a fork or puree with a hand blender.
Remove the saucepan from the heat and let the fruit cool for at least 15 minutes until it is still lukewarm.
In the meantime, rinse the jars and lids with hot water and drain briefly on a clean kitchen towel overhead.
Then stir the chia seeds, sweetener and vanilla into the fruit puree, allow to swell for at least 30 min and fill into the prepared jars and seal well.