Chocolate cherry muffins with organic cocoa and dates
Preparation time: 30 minutes - Difficulty: medium
Ingredients:
- 175 g spelt flour type 630
- 75 g ground almonds
- 6
dates
pitted, cut into small pieces and soaked in hot water for about 2 hours
- 100 g raw cane sugar
- 1/4 tsp. ground vanilla
- 1 tsp. baking soda
- 3 tsp. cream of tartar baking powder
- 4 tbsp.
cocoa powder
- 200ml vegetable drink
- 100 ml sunflower oil
- 2 tbsp. apple cider vinegar
- 1 jar of cherries drained
- decorative litter here: chopped almonds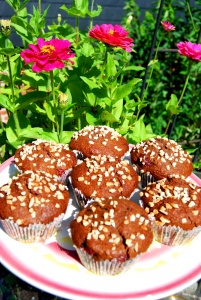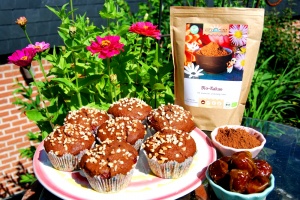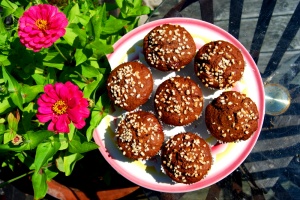 Preparation:
Preheat oven to 180° convection.
Put all dry ingredients in a mixing bowl or food processor and mix well.
Mix dates, sunflower oil, vegetable drink and vinegar in a separate container, then add to dry ingredients and mix well until a thick batter forms.
Drain the cherries, place the muffin paper in the baking tins, fill halfway with batter, place 4 to 5 cherries in each tin and top again with some batter.
Sprinkle with chopped almonds and bake for about 20 minutes.