Chocolate pear crumble cake
Preparation time: 25 min - Difficulty: easy
Ingredients for 12 pieces - 26 cm springform pan:
- 250 g raw cane sugar
- 1 packet vanilla sugar
- 1 pinch of salt
- 400 g spelt flour type 630
- 30 g
cocoa
- 2 tablespoons
maca powder
- 250 g margarine
- 30 g tender oat flakes
- 800 g pears
- sprinkles: almond slivers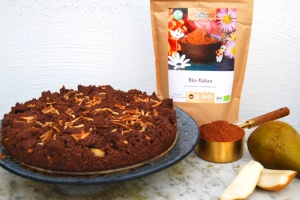 Preparation:
Preheat oven to 180 convection.
Line a springform pan with baking paper. Mix sugar, vanilla sugar, salt, flour, cocoa, maca powder.
Melt margarine in a saucepan and add sugar-flour mixture and stir in with a fork to make crumbles.
Spread two thirds of the crumble in the springform pan and flatten slightly with your hands.
Sprinkle oatmeal on the bottom of the dough.
Peel pears to taste, quarter, core and cut into wedges. Lay pear wedges like roof tiles on the base and spread remaining crumble on top, sprinkle with almond slivers and bake for approx. 35 minutes.