Cottage cheese spelt roll with acerola

Vegetarian - Gluten Free - *Vegan Option

Preparation time: 60 minutes - Difficulty: easy
Ingredients for 8 - 12 buns:
- 150 g cream cheese 20%
- 6 tbsp milk
- 6 tbsp vegetable oil zb sunflower
- 75 g sugar
- 1 vanilla sugar
- 1 tbsp
acerola powder
- 1 pinch salt
- 300 DK flour type 630
- 1 baking powder
- Option: Raisins or other dried fruit
Topping:
- some milk to spread
- sprinkle as desired:
- ex.B.: Almonds, poppy seeds, sesame seeds, hemp seeds, sunflower seeds.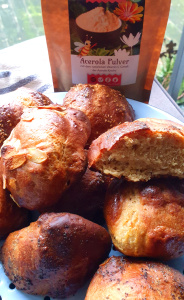 Preparation:
Mix the quark with milk, oil, sugar, vanilla sugar, acerola and salt.
Mix and sift the flour and baking powder, then add by the tablespoon to the quark mixture and knead well.

Tip: If you use dried fruit, soak it in hot water for 10 minutes beforehand and knead it in.

Now form the dough into a roll and cut it into 8 to 12 even pieces, shape them into round rolls, place them on the baking tray lined with baking paper and spread with canned milk.
Sprinkle and bake in a preheated oven with top and bottom heat at 175 ° for about 20 minutes. Place an ovenproof dish with water on the bottom of the oven.