Dandelion spelt pan
Preparation time: 60 minutes - Difficulty: easy
Ingredients for 2-3 servings:
- 200 g fresh dandelion leaves
- 1 handful dandelion flowers
- 1 bag spelt - *see product info below
- red onion 1-2 garlic cloves
- 2 tbsp canola oil
- 30 g unsalted cashew nuts
- 100 g oat cream
- Fleur de Sel, colorful pepper freshly ground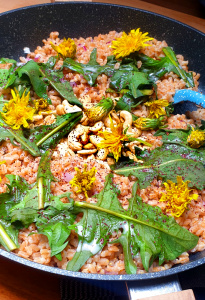 Preparation:
Cook the spelt in salted water for about 20 minutes according to package instructions.
In the meantime, peel and finely chop the garlic and onion.
Read the dandelion leaves, rinse and shake dry, then cut into pieces about 3 cm wide, leaving the heart leaves whole.
Wash the flowers if desired and carefully pat dry.
Heat the oil in a non-stick pan, sauté the onion, garlic and cashews in it for 2 min, then stir in the dandelion leaves and let them collapse a bit.
Add the spelt and oat cream, stir in and season with fleur & pepper, add the flowers with or without calyx over the spelt pan.
* Product Info:
Spelt to be cooked as a side dish is also called spelt rice and cooked like rice, with just under twice the amount of water in 20-30 min.
Pure, natural spelt grains need twice as long.
To do this, for 300 g of cooked spelt, take about 120 g of raw grains in 220 ml of salted water.