Focaccia with rosemary
Preparation time: 60 min - Difficulty: easy


Ingredients:
- 350 g flour type 405
- 1/2 cube fresh yeast
- 200 ml lukewarm water
- 1 teaspoon salt
- 1 teaspoon coarse salt
- 3 tablespoons linseed oil
- 4 cocktail tomatoes
-
rosemary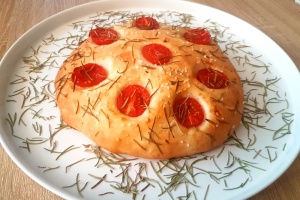 Preparation:
Put the flour in a bowl and make a hollow in the middle. Crumble the yeast into the hollow and mix it with half of the water. Then add the fine salt, the remaining water and 2 tablespoons of oil and knead the dough until it is smooth.
As a tip, if the dough is still too sticky, you can add small pinches of flour until the dough is no longer sticky.
Now cover the dough in the bowl with a cloth and let it rest for 30 minutes.
The dough is then kneaded again briefly and formed into a nice body on a baking tray with baking paper and some flour as a base. This should be about half the area of the baking tray.
Then brush the dough with a tablespoon of oil, press the halved tomatoes into the dough and then sprinkle the coarse salt and rosemary on top.
Leave the dough to rest for another 15 minutes while the oven is preheated to 200°C with fan.
Finally, bake the focaccia for 15 minutes and remove from the oven to cool.