Gluten free rolls with psyllium husks

Vegan - Lactose-free - Sugar-free

Preparation time: 60 minutes - Difficulty: easy
Ingredients for 9 rolls:
- 300 g buckwheat (makes about 500 g soaked)
- 240g water
- 2 tsp apple cider vinegar
- 2 tsp sea salt
- 1 tsp cream of tartar baking powder
- 20g coconut oil
- 40 g
psyllium hus
ks
- various seeds for sprinkling, we like:
pumpkin seeds, sunflower seeds, sesame,
Psyllium (Bio)
seed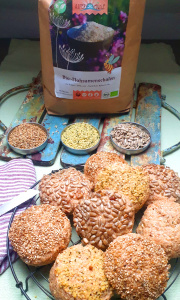 Preparation:
The night before, put the buckwheat in a bowl and add enough water to cover everything well. Stir and leave covered for at least 10 hours.
Preheat the oven to 190 degrees Celsius, placing a baking dish with water on the bottom of the oven.
Now rinse the soaked buckwheat well in a fine sieve until the water is no longer slimy.
Put the swollen grains in a kitchen blender, add 240 g of water and all the other ingredients except the psyllium seeds.
Blend everything well, you will get a thick consistency and pour it into a bowl, now quickly stir in the psyllium husks.
They will quickly take effect and your dough will become firm.
Wet your hands and form about 9 rolls from the mixture.
Put your seeds on different plates and press the dough into them briefly.
Place them on a baking tray lined with baking paper and bake on the middle shelf for 35-40 minutes.
They taste best when they have a crispy crumb on the outside and are super juicy on the inside.
With sweet or savory topping simply delicious !