Hemp seed coconut granola with baobab powder
Preparation time: 90 minutes - Difficulty: medium
Ingredients:
- 60 g almonds
- 50 g coconut oil
- 200 g buckwheat
- 4 tbsp coconut chips
- 1 TI cinnamon powder
- 1/2 TI gern. Vanilla
- pinch sea salt
- 20 g hemp seeds
- 150 g berries
- 300 g yoghurt
- 2 tbsp
baobab powder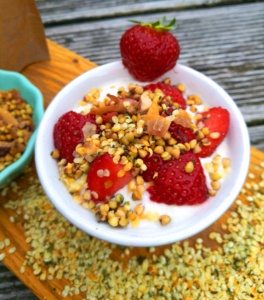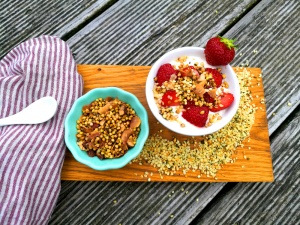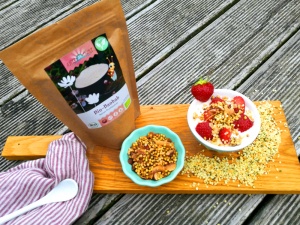 Preparation:
Preheat the oven to 175 degrees and line a baking tray with baking paper.
For the granola: Finely chop the almonds, heat the coconut oil in a small saucepan and mix with almonds, buckwheat, coconut chips, cinnamon, vanilla and salt.
Spread the granola on the baking sheet and bake in the oven for 10 minutes on medium heat, then let it cool until it is well dried.
Mix the hemp seeds with the granola and pour into a screw top jar or storage container and seal tightly, shelf life approx 3 months.
The granola is enough for about 12 servings.
Sort the berries, in this case strawberries, rinse and pat dry, mix yoghurt with baobab powder and divide between two bowls, sprinkle two tablespoons of granola on each and enjoy).