Hemp seed rolls with chia seeds, psyllium, hemp seeds
Preparation time approx. 25 min/ Baking time 30-35 min - Degree of difficulty: easy


Ingredients for approx 6 rolls:
- 1 tbsp
organic chia seeds
- 3 tbsp + 250 ml water
- 60 g gluten-free rolled oats
- 40 g gluten-free buckwheat flour + some for sprinkling
- 65 g almond flour or ground almonds
- 60g hemp seeds
- 40 g ground flax seeds
- 1 tsp
organic flea seed hulls
- 1,5 tsp tartar baking powder
- 1.5 tsp sea salt
- 40g virgin coconut oil
- sesame seeds and poppy seeds for sprinkling
- Accessories: Ice cream scoop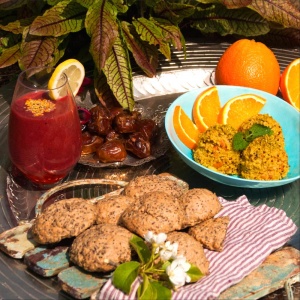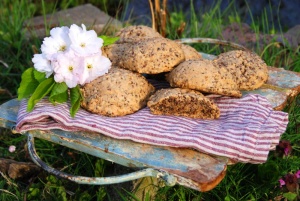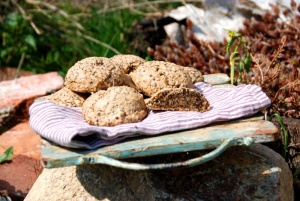 Preparation:
Preheat oven 180° convection,
200 degrees top and bottom heat
Mix the chia seeds with 3 tablespoons of water and set aside to thicken, stirring in between.
Mix the dry ingredients in a bowl, melt the coconut oil and add to the dry ingredients together with 250 ml water and mix well.
Leave to swell for 10 minutes, the mix should not be too dry, comparable to the consistency of a bread dough, add a little water if necessary.
Line a baking tray with baking paper and sprinkle with a little buckwheat flour.
If you have an ice cream scoop, place 6 equal portions of the dough on the baking paper or form 6 balls with wet hands,
Sprinkle with sesame or poppy seeds if desired and bake for 30 to 35 minutes until lightly browned on the outside.