Jo-Jo cupcakes with baobab
Preparation time: 6 minutes - Difficulty: easy
Ingredients for approx. 24 pieces:
- 2 cups yogurt of your choice
- 300 g
currants
- 2 eggs
- 2 cups spelt flour type 630
- 1 package vanilla sugar
- 1 cup sugar
- 2 tbsp.
baobab powder
- 1 cup vegetable oil- some fat for the molds
- 1 package baking powder
- some powdered sugar
- decoration: currant stems and powdered sugar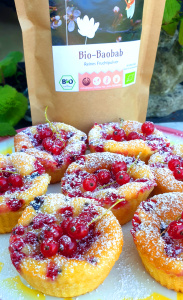 Preparation:
Useful:
Muffin molds silicone or other, 1 cup for measuring, preheat oven to 175 degrees convection.
Always use the same cup for measuring !
Wash currants, remove greens and carefully pat dry in kitchen towel and set aside.
Save a few berry stalks for decoration.
Add all other ingredients, a little at a time, to a mixing bowl and mix well with a kitchen mixer.
Fold in the currants and carefully fill the greased tins ¾ full.
Bake in the preheated oven on the middle shelf for approx. 20 - 30 min. until golden brown and test.
Let the tartlets cool on a cooling rack for about 10 minutes and turn the tartlets upside down so that they loosen and let them cool completely.
Sprinkled with sifted powdered sugar and topped with currant stalks, they are a fine delicacy for high tea.