Kiwi yogurt with barley grass and flower pollen
Difficulty level: medium - Preparation time: 15 minutes - For one person
Ingredients:
- 150 g soy yoghurt
- 1 kiwi
- 10 g puffed amaranth
- 15 g goji berries
- 1 heaped tbsp flower pollen (organic)
- 1 tsp maple syrup
- a few basil leaves
- 10 g cashew nuts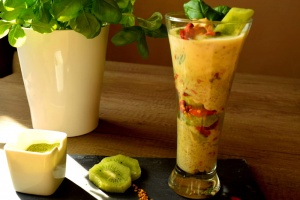 Preparation:
First mix together the soy yogurt, 10 g of the pollen and amaranth and leave to soak for approx. 10 minutes.
In the meantime, peel the kiwi and cut into slices approx. 5 mm thick. Fold the barley grass and maple syrup into the soy yogurt. Chop the basil leaves into small pieces, chop the cashew nuts and add them too.
Now pour a large spoonful of the yogurt mixture into a tall glass, sprinkle a few goji berries on top and place a slice of kiwi on top. Then sprinkle a few flower pollen over the kiwi slice.
Repeat this process once or twice more. Place a basil leaf, half a kiwi slice, flower pollen and a few goji berries on top to garnish.

Tip:
"Layering" the individual components is a little tricky and requires a bit of practice. If you don't succeed at the first attempt, don't give up, you'll get the hang of it after two or three attempts!