Marzipan gingerbread with acerola powder & psyllium husks
Vegan option - Gluten free - Lactose free

Preparation time: 45 minutes - Difficulty: easy
Ingredients for approx 18-20 pieces:
- 200g ground hazelnuts
- 200g ground almonds
- 200g raw marzipan
- 50g butter or margarine
- 2 heaped tbsp
Psyllium (Bio)
- 1 tbsp
acerola powder
- 110g dried apricots
- 50g
acacia honey
- 2 tbsp applesauce
- 1 organic orange ( juice & peel)
- 1 organic lemon ( juice)
- 1 tsp. cinnamon
- ½ tsp. gingerbread spice
- 1 pinch fleur de sel
- 18-20 wafers a 7 cm
- 100g plain chocolate
- almond flakes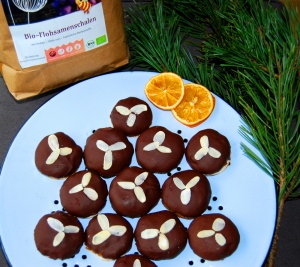 Preparation:
Prepare the egg substitute with 2 tablespoons of applesauce, juice of 1 lemon and 2 tablespoons Psyllium (Bio).
Finely chop the marzipan and apricots, then gradually add them in a food processor:
Almonds, nuts, acerola powder, honey, juice and zest of 1 orange, some lemon zest, egg substitute, spices and knead everything into a firm, moist dough.
With the help of an ice cream scoop or tablespoon, place the dough on the oplades and shape them into a dome, closing the edge of the dough and oplade.
Place them on a baking tray lined with baking paper and let them dry for about 1 hour.
Then bake the marzipan gingerbread in the preheated oven on the middle shelf for about 20-25 minutes.
Then let the gingerbread cool completely, melt the chocolate coating in a bain-marie, carefully dip the Opladen with the rounded side of the dough into the chocolate coating, brush with a knife if necessary and decorate with 3 almond leaves each and let dry.