May punch with fresh woodruff

Vegan - Lactose-free - Gluten-free

Preparation time: 30 minutes - Difficulty: easy
Ingredients for 1 liter:
- 750 ml young white wine or apple juice
- 250 ml sparkling wine - goes of course also alcohol-free
- mineral water to mix with apple juice
- 1/2 organic lemon or lime
- 100 g raw cane sugar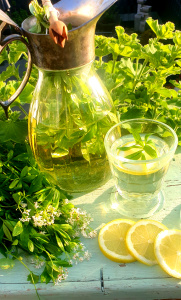 Tip:
To prepare the May punch, you should let your woodruff wilt for a few hours or overnight, this way it will develop its special aroma, the curmarin smell. Only use plants that are not in bloom. Chill your drinks the day before.
Preparation:
Remove the lower leaves from about 10-15 fresh stalks of woodruff and tie the bunch with household twine.
Put the sugar and white wine in the punch bowl, hang the bunch of woodruff in it and let it steep for 20-30 minutes.
We used a small piece of wood to keep the lower ends of the stalks from coming into contact with the wine.
Afterwards you can dry your woodruff bunch and simply hang it up in the room, its scent will repel moths, among other things.
Just before serving your punch, add the chilled sparkling wine and a few lemon/lime slices for decoration.
It is a very refreshing drink, which you can sweeten, dilute with mineral water or mix with various fruits.
For the non-alcoholic version, use apple juice and mineral water in the same way.
Woodruff can be found fresh only in the months of May and June, even in our native deciduous forests.
Otherwise at the herb stalls at the weekly market or florist of your confidence.