Mountain Tea Lemonade with Syrup of Greek Mountain Tea & Lemon
Preparation time: 30 min - Difficulty: easy

Vegan - Gluten Free - Lactose Free

Option with buzz: gin or vodka
Ingredients:
- 500 ml water
- 2 handfuls of
Greek. Bergtee
flowers and stems
- 4 tablespoons sugar
- 1 organic lemon
- mineral water
- ice cubes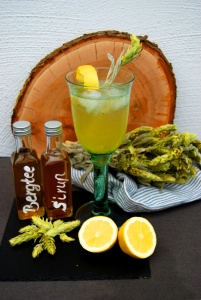 Preparation Syrup:
First boil the mountain tea with sugar and 500 ml of water in a small saucepan, remove from heat and let cool for 2 hrs.
After the cooling time, pour the syrup into clean screw top bottles or glasses.
For more coolness, place the drinking glasses in the freezer for about 30 min before use.
Add 2 cl of syrup and 4 cl of freshly squeezed lemon juice to 2-4 ice cubes per glass and fill up with mineral water. If you feel like a buzz, add vodka or gin to taste in your vacation cocktail, Prösterchen !
Deco: mountain tea stalks, lemon zest