Mushroom sage soup

Vegan - Lactose-free - Gluten-free

Preparation time: 45 minutes - Difficulty: easy
Ingredients:
- 250 g mushrooms
- 400 ml vegetable broth
- 200 g vegan cooking cream
- 1 tbsp
sage
- 1 small onion
- 2 tbsp margarine
- 2 chives, parsley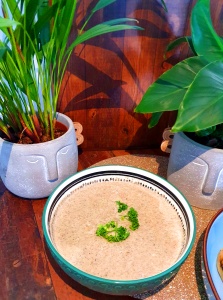 Preparation:
First, the onions and mushrooms are coarsely chopped and sautéed in a pot, together with the margarine briefly.
Then add the broth, sage and cooking cream.
Stirring occasionally, we have to let the whole simmer for 10 minutes. Then we mix everything with a blender until we get a creamy soup.
Then chop some chives and parsley and use them for garnish.