Nougat cake with guarana & cocoa powder

Vegan - Lactose-free - Gluten-free

Preparation time: 45 minutes - Difficulty: easy
Ingredients dough:
- springform pan 20/22 cm diameter
- 250 g spelt flour type 650
- 200 g cane sugar
- 80 g
cocoa
- 3 tbsp.
guarana powder
- 60 g vegan margarine
- 300 ml plant milk
- 1.5 tsp. baking powder
- 1 p. vanilla sugar
- 1 pinch of salt
Ingredients nougat cream:
- 300 g vegan cream to whip (e.g. Schlagfix)
- 150 g nougat dark
- 50 dark chocolate (vegan)
- 1 p. cream stiffener
Topping:
- 75 g nougat dark
- 100 g dark chocolate or block chocolate (vegan)
- 100 g vegan cream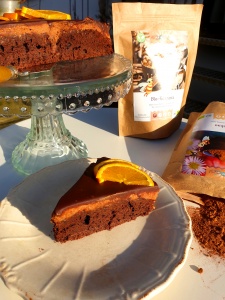 Preparation dough:
Preheat the oven to 180 degrees convection.
Carefully melt the margarine and weigh out all the dry ingredients in a bowl.
Add the melted margarine and vegetable milk and mix everything together well with a whisk.
Grease a springform pan well or line with baking paper, pour in the batter and bake for 30-35 min at 180 degrees on the middle rack.
IMPORTANT: Then let the base cool completely and possibly straighten for further processing.
Nougat cream:
Melt the nougat and dark chocolate very carefully, the nougat must not get too hot.
Whip the cream with the cream stiffener, gradually fold into the nougat-chocolate mixture, then spread on the cake base and chill for about 15 min.
In the meantime, prepare the topping:
Heat the chocolate, cream and nougat together for the topping in a small saucepan, stirring constantly until everything has melted. Then spread the whole on the nougat cream and refrigerate the cake for at least 2-3 hours.
Decoration: to taste with fruit, nuts, coffee beans or cream tuffs.