Plum sorbet - quick & delicious

Vegan option* - Gluten-free - Lactose-free

Preparation time: 15 minutes - Difficulty: easy
Ingredients:
- 400 g plums frozen, or other frozen fruit
- 1 egg white
- 2 tsp lemon juice
- 60 g powdered sugar
- 1 pinch of salt
- Topping: e.g. chopped almonds or other nuts,
cocoa
powder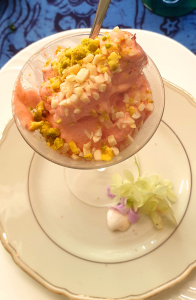 Preparation:
First chop the frozen fruit in the blender, then add all other ingredients and process for about 50 sec. to creamy ice cream.
Best consumed immediately. Pour into champagne glasses or ice cream bowls, top with your choice of sprinkles and enjoy. So light and fruity tasting!!!
*For a vegan option, simply omit the egg whites. It just makes an extremely fluffy consistency. All you need is a high-powered blender, not an ice cream maker.