Raw Truffels with Aspermills Maca & Cocoa
Preparation time: 30 min - Difficulty: easy

Vegan - Gluten Free - Lactose Free
Ingredients:
- 1 avocado
- 30 g
cocoa powder
- 5 tbsp. date paste (approx. 15
dates
soaked in hot water)
- 1 tbsp.
Maca Powder (Bio)
- 2 tbsp. coconut oil
- 1 pinch Fleur de Sel
- 1 tsp. spices to taste, eg: Vanilla or cinnamon or gingerbread spice
- Option Bestreu: coconut flakes,
hemp seeds
,
blueberry powder
.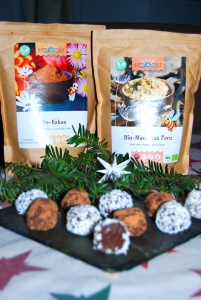 Preparation:
For the date paste, pit 10-15 dates and soak in hot water.
Scoop out the flesh of the avocado and finely puree with all other ingredients (date paste without water) in a food processor.
Leave the mixture in the refrigerator for at least 3 hours, then form into small balls and roll in cocoa powder or sprinkles of your choice.